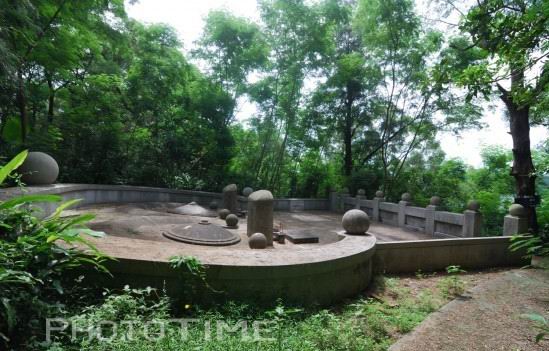 Dozens of meters away from the Seaview Building,General Chen Jitang and his wife Mo Xiuying were buried here. Their engrave guard in silence this beautiful land.
  General Chen's hometown is Fangcheng city of Guangdong(now belongs to Guangxi). His life is a legend: From the a farmer's child to the chairman of Guangdong Province of the National Government of the Kuomintang; From a common soldier to the commander-in-chief of Guangdong army, and the Commander-in-chief of Guangdong and Guangxi. During his tenure in Guangdong, he had done many practical things, and now the Guangzhou Municipal Government Building, Zhongshan Library Old Building, Zhongshan Memorial Hall and Haizhu Bridge, etc., are built when he was the Chairman of the provincial government. Comrade Deng Xiaoping once said that Chen Jitang did make some achievements during his eight years tenure in Guangdong.
  Mo Xiuying, born in Liangpo of Gaozhou, Guangdong. She died early in 1948 in Guangzhou. Since General Chen Jitang loved Huguang's landscape, he order to deliver Mo Xiuying's body to bury in Huguang. A worker who once built the grave said, during construction of the grave, Chen Jitang sent troops to guard the area and passengers were strictly prohibited. Construction of the grave used three batches of workers, each was responsible for only one part of the grave: one for dugging graves, one for building burial chamber and one for ground surface structure. The segregation method was used to keep the secrets of the grave. Only a very few people knew that Mok Xiuying's embalmed body was lying in a glass coffin. At that time, there were a building beside with more 10 grave keepers living there. The grave keepers withdrew the country was liberated (from Kuomintang's rule). Chenjitang still left himself an empty chamber next to the grave in order to be buried with his wife after death. In 1993, Chenjitang's bone ashes were sent to Huguang area and buried together with Ms. Mo. They realized the dream of eternal love.